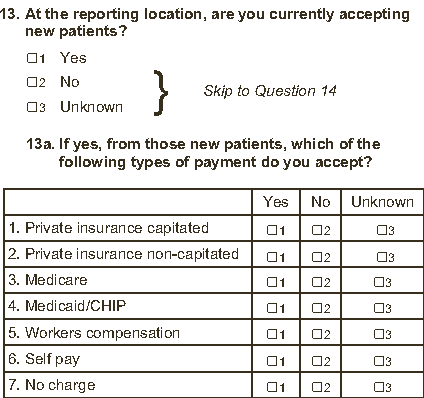 According to this just-released
Health and Human Services Issue Brief
, the percent of U.S. physicians "accepting new Medicare patients" increased from
87.9% in 2005
to
90.7% in 2015
. What's more, this rate of uptake of new Medicare beneficiaries is tracking higher than the rate of "new privately insured patients."
The
Issue
also says there "may" have been a "very small increase" in the number of docs who have dropped out of the Medicare program. Those drop-outs appear to be greatest among psychiatrists (1.1%) and plastic surgeons (1.6%). In contrast, only 0.35% of primary care physicians have dropped out. These drop-outs have been more than compensated for by the new physicians entering the labor market.
Except for 2015, these data are from the in person interviews that comprise the
National Ambulatory Medical Care Survey
, The 2015 numbers are described as "interim," because they are based on a mail-in survey.
The
Issue
brief also quotes a separate
MedPAC annual survey of thousands of Medicare beneficiaries
. According to the brief, 77% reported they never experienced a delay in getting an appointment for routine care, compared with 76% in 2008.
Case closed, right? The Disease Management Care Blog's
dire warnings about a widespread provider exit from Medicare
that was
echoed years later by the Wall Street Journal
have been overblown.
Not exactly, speculates the DMCB, for the following reasons:
1. The DMCB pulled
a copy
of the NAMCS survey and found the question that was apparently used to assess physician participation. The screen shot is above. It generically refers to "Medicare," not
fee-for-service Medicare.
Because many physicians are members of insurance networks, an affirmative answer could be misinterpreted by the respondents as referring to
Medicare Advantage.
2. There is a difference between "
accepting
" new patients vs.
welcoming
new patients. In
this seminal New England Journal study
, many respondents "accepted" "new" Medicaid beneficiaries, but moved them to the back of the appointment queue.
That being said, the MedPAC survey suggests that isn't happening - yet - to Medicare beneficiaries. And that's assuming a health care consumer's definition of "delay" hasn't been dumbed down since 2005.
3. Last but not least, the NAMCS numbers represent a
national average.
Many areas of the country have seen consolidation of physician practices into larger groups. The DMCB suspects these entities are
more
willing to accommodate Medicare beneficiaries. It's very possible that the smaller physician-owned practices - many of whom practice in rural areas - are less likely to do so in 2015 than they were in 2008.
Coda
:
In yesterday's post, the DMCB was introduced to "
twerking
." After additional inquiries of the DMCB spawn, it has learned more about this curious phenomenon.
Which led to this insight:
Q: What is one key similarity between
twerking
and
being an ACO?
A: You better be careful doing both, otherwise you could get screwed.
.